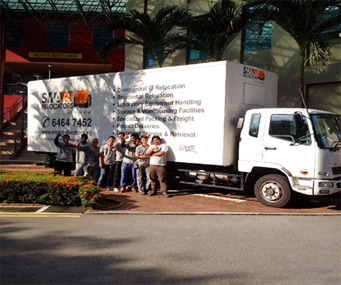 Contact us today
Tel: +65 6464 7452
Fax: +65 6464 7451
Email: admin@smartrelocators.sg
About Us
International Moving Company
SMART Relocators has been operating in Singapore since 2011 and has gained the trust & confidence of many prestigious institutions such as government offices and international corporations. These clients have faithfully worked with us on recurring basis.
Being a preferred One-Stop Service provider in Singapore, covering all moving, storage and relocation services. Managed by its founders who together has more than 50 years experience in the logistics , moving and relocation industry.
Smart Relocators is also an association member of IAM, PAIMA and accredited workplace safety and health council (WSH) Bizsafe 3 partner provider.
he International Association of Movers (formerly known as the HHGFAA – House Hold Goods Forwarders Association of North America) is the US moving and forwarding industry's largest global trade association. As a global association of over 1900 members in over 165 countries comprising of auditing, forwarding, moving, and shipping companies located in over 160 countries.
The global network of transportation providers is constantly evolving and expanding. Domestic and international membership provides the services and expertise necessary to advance global commerce. Worldwide members, who are involved in the daily transportation of household goods and personal effects, are as diverse as the components of an international relocation itself. Transportation and the exchange of goods and services are the essential lifeblood that drive today's global economic growth.
For further information about the International Association of Movers, please visit the website
The Pan American International Movers Association (PAIMA) was founded in 1984 by 16 owners of major international moving companies. These were business people who saw the need and the opportunity to create an association that would represent companies from the Americas with selected members in key areas of the world.
The founders of PAIMA had the vision to create an association comprised by reputable moving companies that would be interested in improving the international moving industry. The association's responsibility and commitment to its members was to represent, increase and protect their businesses.
With fast-changing technological advances constantly taking place, it is important to know there are people out there who care. The Pan American International Movers Association is an exclusive network of international moving companies that prides itself on going the extra mile for its members and the customers they serve.
PAIMA encompasses members in key areas of the world and embraces a commitment to the core values of personal service and high-quality door-to-door service.
For further information about the Pan American international Movers Association, please visit the website
At Smart, we committed to our work force safety, but the leader of an enterprise is responsible for setting the direction on how safe practices should be implemented, practiced, documented and improved on a continuing basis.
BizSAFE is a five-step programme in Singapore under workplace safety and health council (WSH) that assists companies to build up their WSH capabilities so that they can achieve quantum improvements in safety and health standards at the workplace.
For further information about work safety and health council (WSH) Bizsafe, please visit the website
Storage & Warehousing
Laboratory & Warehouse Relocation
Server & IT Technology Move
Project & Deliveries
International & Residential Moves